Membership | Accreditation | 2015 National Conference | Maps | Outreach
Through our national network of engaged members, NACEP achieved new levels of impact in 2015, advancing quality college courses in high school across the country.  Membership continued to grow and our influence grew both locally and at the national level.  The National Conference in Denver was another great success.  Learn more about all that NACEP accomplished in 2015 below.
2015 Year in Review (PDF Full Version)
---
Membership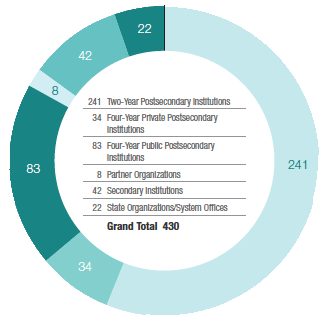 In 2015 NACEP offered more services and saw more growth than ever before!  NACEP had 84 new members, bringing total membership to over 400 organizational members for the first time in its history. The New England Alliance of Concurrent Enrollment Partnerships joined NACEP as its second affiliated chapter, and with NACEP's help, many other states began organizing for the first time. NACEP continues to expand the portfolio of services it offers to its members. Of particular note is the publication of NACEP's first issue brief—Discipline-Specific Professional Development for Continuing Instructors.
---
Accreditation
Twelve programs earned accreditation from NACEP in 2015, 5 of which came from Missouri. In 2015, Iowa became the first state to have all of its community college concurrent enrollment programs NACEP-accredited. Accreditation is awarded to programs after a comprehensive peer review by a team of experienced representatives of NACEP-accredited concurrent enrollment partnerships. NACEP finished 2015 with 97 accredited programs representing 19 states.
The accreditation process has been one of the best professional growth activities of my career. Besides my doctoral program, nothing has stretched and challenged me as much as this experience. The accreditation process is a long one, and there were times when I wanted to give up; however, the process allowed me to step back and take a long look at Ball State's Dual Credit Program. Through the process, my staff and I learned how we could take a good program and transform it into one of the best programs. — James Hendrix, Ball State University
Programs that earned accreditation in 2015:
*Reaccreditation
Ball State University
Central Methodist University
Corning Community College*
Erie Community College*
Iowa Lakes Community College
Mesabi Range Community & Technical College*
Missouri Baptist University*
Nebraska Wesleyan University*
Northwest Missouri State University
Owensboro Community & Technical College
Saint Louis University
University of Missouri Kansas City*
---
 2015 National Conference
NACEP's National Conference keeps getting bigger and better! This year, our 2015 conference, Reaching New Heights, took place in Denver, Colorado on October 25-27.